Local. Family Owned. Trusted.
Metal Roofing Bradenton FL
Top-Rated Metal Roofing in Bradenton
Florida State Roofing & Construction offers the best in roofing services, materials and supplies to protect your largest investment — your home.
After you've decided that you want to replace your roof, the next step is choosing which roofing material you want. This step can be difficult, especially if you're unsure of the benefits and disadvantages of each roofing material. One roofing material that we highly recommend is metal roofing systems. This roofing material comes with several benefits and is slowly becoming a popular choice amongst homeowners and business owners today. When you turn to our team at Florida State Roofing and Construction, Inc., you can trust that we will steer you in the right direction regarding which roofing material will best suit your home, style, and budget.
Have you been searching for Bradenton metal roofing near me? At Florida State Roofing and Construction, Inc., we are a metal roofing installation company that strives to exceed our commercial and residential metal roofing customer's expectations in the area with the best services and results possible.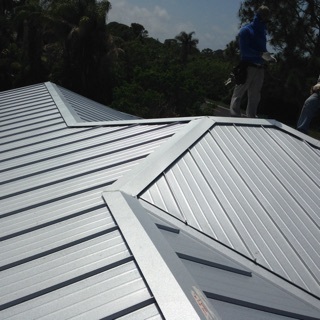 Searching for Bradenton Metal Roofing Near Me?
When choosing a material for your roofing, it's important to weigh your options, as there are several to choose from. If you're unsure about your roofing material options, we can help point you in the right direction regarding which material will be best suited for your home or business. The right material needs to be sturdy enough to face the harsh Florida weather, and durable enough to withstand the wear and tear it will have to face over the years. One material to consider is metal roofing. Metal roofing is becoming popular amongst homeowners for a reason.
This material is durable, lightweight, energy-efficient, and long-lasting. When properly installed and well taken care of, this roofing material can last anywhere from twenty-five to fifty years. This option is a sturdier and longer-lasting option compared to shingles. Metal is also more likely to withstand the Florida winds and rain than shingles. However, it's important that your metal roof is installed by experts who thoroughly know and understand how to properly install one.
 You need a company with the knowledge and experience to back up the roofing job. Our metal roofing services will be done correctly the first time around, and you can rest assured knowing that our craftsmanship will allow you to enjoy your roof for many years to come. You can trust that we provide the best metal roofing Bradenton, FL has to offer.
Expert Metal Roof Installation Bradenton Residents Trust
One major advantage of metal roofing is that it is energy efficient. Installing a metal roof could aid in cutting some expenses from your monthly bills. This is because metal roofs are capable of reflecting back the sun's UV rays, and they can decrease the amount of heat transferred into your attic. When your attic has less heat being transferred into it, your electricity bill will be lower. There are many reasons why metal roofs are becoming popular, and we look forward to installing this roofing material for you so you, too, can reap the benefits of this roofing material. CERTIFIED STATE ROOFING CONTRACTOR (CCC1326624 / CCC1328172)
We work with you directly to comprise a plan that will provide what you need at competitive pricing. Our initial consultation helps us compile a detailed estimate. We will then be alongside you every step of the way to ensure we exceed your expectations! Call Today for Commercial or Residential Metal Roofing in Bradenton FL
Are you in need of a new roof but unsure what roofing material you want to replace it with? One material that you should consider is metal roofing. Metal roofing is an investment; however, it's worth it with the many advantages this material brings. At Florida State Roofing and Construction, Inc., we are an insured, licensed, and dependable company you can count on. With over twenty years of experience, we have the training, skills, and equipment needed to provide you with the best metal roofing services and results. For more information regarding our metal roofing services or a free quote, make sure you reach out to our team in Bradenton, FL today! We also offer roofing services, new roof installation, and roof repair services in Bradenton, FL, and the surrounding area!